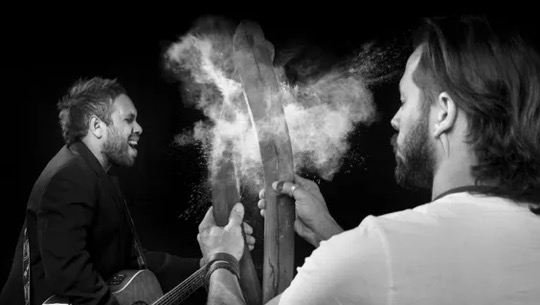 This workshop is a unique experience for incentive or conference audiences seeking an insight into the unique culture and music of Indigenous Australia. Available Australia-wide.
Inspire your audience with a very special team building workshop combining the culture of Indigenous Australia with authentic Australian rock n' roll music from bands such as INXS, Midnight Oil, Cold Chisel, Yothu Yindi and the Warrumpi Band. Rock and Roll Team Building has partnered with the incredibly talented duo 'Apakatjah' (pronounced Uppa-Cut-Ja) to design an interactive workshop featuring stirring harmonies and traditional instruments.
The workshop provides a creative and fun environment to engage, inspire, connect and develop people through the universal language of music. Amongst elements such as choir and rockstar performances this workshop includes the construction of an original song using the theme of the event as the title. In addition, an interactive percussion session utilising the Aboriginal instrument 'clap sticks' will have all audience members working together to provide rhythmic accompaniment for legendary songs from Yothu Yindi and the Warrumpi Band.
The workshop is led by 'Apakatjah' duo Dion Forrester and Jonathan Lindsay-Tjapaltjarri Hermawan. Dion and Jonathan blend their cultural influences from Aboriginal Australia into the workshop and perform their new hit single 'Waru'. Apakatjah has supported artists including Neil Murray, Archie Roach and in late 2017 will support Midnight Oil in Alice Springs. The group has also recently released their debut album 'In Between' and covered Midnight Oil's song 'The Dead Heart' for the ABC album compilation 'Deadly Hearts'.